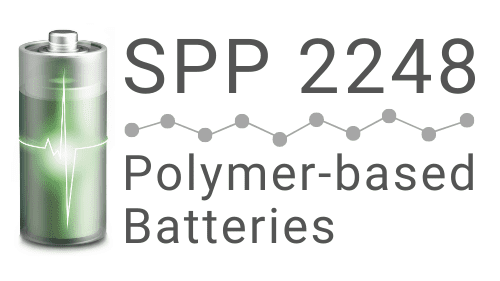 DFG Priority Programme "Polymer-based Batteries" (SPP 2248)
Organic materials, in particular organic polymers, which are utilised as active materials in batteries, are currently an intensively investigated research topic. The utilisation of these materials represents an auspicious approach considering
sustainability (e.g., lower temperatures required for the fabrication, no (less) toxic elements / substances used, no heavy metals),
processability (e.g., printable batteries) as well as
battery performance (e.g., power density).
The SPP aims at the elucidation of structure-property-relationships, the design and synthesis of novel active materials, which will result in polymer-based batteries with preferably high capacities and longer lifetime over many cycles.
Therefore, the research will be divided into
modelling for the identification of promising materials,
understanding of the occurring (redox) processes as well as possible side reactions,
the design and synthesis of redox-active polymers,
the development of novel electrolytes,
detailed characterisation in order to shed light on the processes occurring in the composite mixtures that are used as the battery electrodes (particularly by in situ and in operando characterisation techniques).
Center for Energy and Environmental Chemistry Jena (CEEC Jena)
Prof. Dr. Ulrich S. Schubert
Philosophenweg 7a
07743 Jena